Compare 55 gaming mousepads reviewed by Informanews.net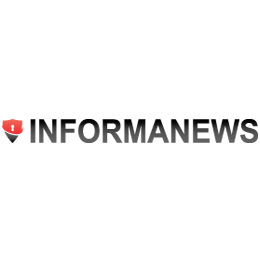 The original review from: http://www.informanews.net/scripts/test-28-1-comparatif-tapis-de-souris.html#2
———————————————————————————————————–
Below parts translate by google in English
————————————————————————————————————
Introduction – Presentations carpets and categories 
  introduction
There are some years, mousepads foam allowed to delay fouling our mouse balls. The era of optical mouse was quick to arrive on the market and most computer users now have optical or laser mice. Precision, comfort, ease of talks, life, the benefits are numerous. That says "high end" said high price, this is not true for all of our carpet and prices range from € 0-50. Combined with a decent mouse, these rugs provide, in theory, increase the accuracy of your mouse, giving a significant but mostly allow great handling comfort. The design is also an important element, the PC Tuning does not stop at the elements of your ride!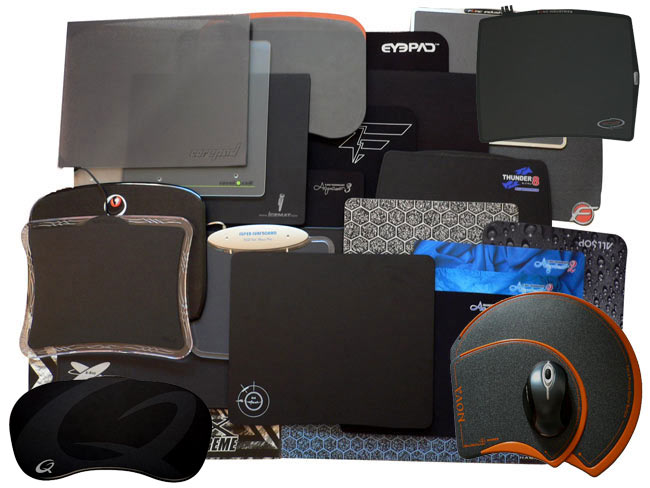 Here are the 55 mouse pad that we will test: 
the flexible 
Foam – Cloth 
Corepad EyePad (17 €) 

Everglide Titan Monstermat (23 €) 

Qpad LowSense (32 €) 

ALLSOP Raindrop [Generic] (7 €) 

Destrukt Pad (20 €) 

Fatal1ty Pad (20 €) 

X-Ray 330M Aqua 3 (19 €) 
X-Ray Aqua 2 Version A, A2B and A2C (14 €) 

Razer Manis Control 

Steelpad QcK 

Q-Pad CT 
   plastic 
Nova Killer (28 €) 

Nova Winner (15 €) 

Func F-Series R.30 (28 €) 

Everglide Xtreme (20 €) 

XTrac Hammer (25 €) 

Nova MicrOptic Standard (7 €) 

Nova MicrOptic Pro (9 €) 

XTrac Zoom (20 €) 

XTrac Pro HS (18 €) 

Everglide Gaming Mat Optica (10 €) 

Everglide Gaming Mat (10 €) 

Everglide Gaming Mat Special Ops (10 €) 

Nova MP-1 
   Home made 
Sheet of A4 paper (€ 0) 

The sheet of A4 paper with plastic film (1 €) 
Not Flexible "simple"
Double-sided plastic 
X-Raypad Thunder 8 (23 €) 

Func Surface 1030 MBA Limited Edition (47 €) 

Func Surface 1030 (22 €) 

Everglide Prosurface Special edition (20 €) 

fUncSurface 1030 Archetype 
   metallic 
Thermaltake Xaser II Aluminium (19 €) 

Ultimat (32 €) 

Allsop Metal Art (20 €) 
   Single sided plastic 
Raptor Gaming (20 €) 

Steel Pad S & S (33 €) 

Kryptec: X-Board Prototype V2 (18 €) 

Compad Speed ​​Pad (19 €) 

Everglide Attack (10 €) 

Everglide Giganta Optical (13 €) 

X-Ray Thunder 9 BK1 and BK2 (33 €) 
X-Ray Thunder 9 BL2 (33 €) 

Q-RT-X Pad 
  glass
single Sided 
Icemat 2nd Edition (37 €) 

Icemat Opaque (17 €) 

Icemat Back (17 €) 

Revelcell MousePad (25 €) 

Corepad Magna (32 €) 

Corepad (32 €) 
   Double face 
Bungee Crystal Pro (25 €) 
   the bright 
Everglide Ray (35 €) 

Flexiglow FX Game Pad (25 €) 

Flexiglow X-Raider (25 €) 

PC Look – Super SURFboard (15 €) 
Thank you to the website selling Indiweb for the loan of carpet! 
—————————————————————-Page 10——————————————-
X-Ray 3 Aqua 330M 
  X-Ray Pad Aqua3 330 million 
The X-Ray manufacturer continues its expansion of range and now offers mouse pads foam / fabric similar to Corepad Eyepad or Everglide TitanMonsterMat. Aqua 3 is called, is available in two versions. L and M. The tested version is a million that has the following dimensions:
– Length: 40 cm
– Width: 28 cm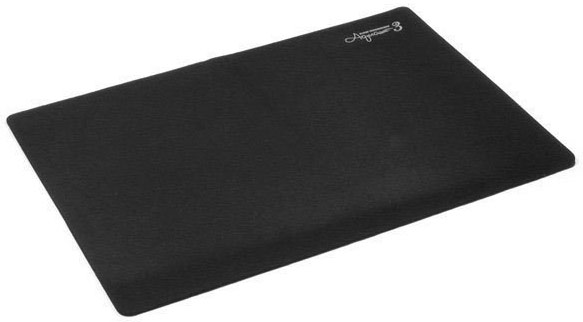 This foam pad is one of the smallest tested in our roundup. It's a good thing because this type of carpet tends to take disproportionate dimensions for such a product (Including the Eyepad!). However, the composition remains similarly: A slip foam layer followed by a fabric surface. Like its competitors in this field, the Aqua 3 is not an excellent performance in terms of glide and precision. The fabric prevents the mouse sliding carpets as well as having a surface of plastics or glass. Nevertheless, the undeniable advantage of this carpet is its ease of use. The surface is smooth and really nice and rubbing the palm of the hand are here very little felt. 
In terms of design, the Aqua 3 does not make any major changes compared to its competitors: black rug with a small logo silkscreened. 
Offered at a price of 19 €, Aqua 3M is a good carpet however has competitors that offer virtually the same product … therefore difficult for the user to make a choice! 
—-
For the classification of the carpet among competitors in its class and whether he belongs to the podium by features, please go to the conclusion of the survey.
——————————————Page 11———————————————————
X-Ray Aqua 2 Version A, B and C 
  X-Ray Aqua Pad 2 Version A, B and C 
Xray-Pad presents here mousepads of "generic" types. A rectangular shape and a number of grounds, all on a soft mat with fabric surface. Simple generic carpets or real X-Ray carpet?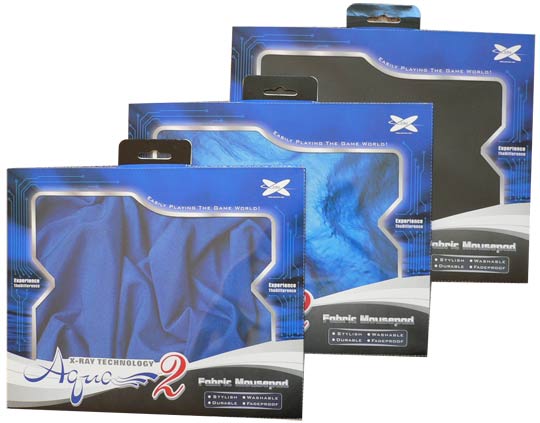 The three versions of the Aqua 2 are delivered in a box in nice design, which does not really remember the "beautiful" generic foam mat. These mats are available in three versions: A, B and C. The C version is the simplest, all dressed in black with a small X-Ray logo pad. Versions B and C make us think unfortunately generic carpets with patterns that, it must be said, are not very successful. (Especially the version A).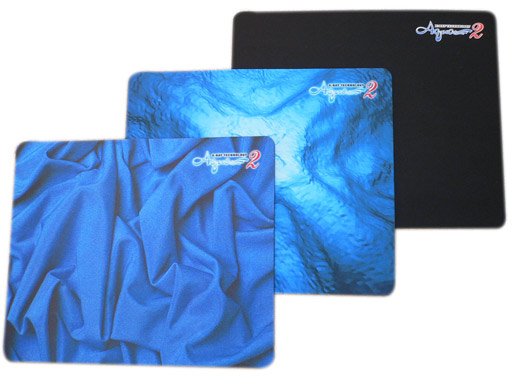 Apart from this little bad taste, Aqua 2 are entitled to a good finish. We also dwelt on how the surface is glued on the fabric slip foam. It is often at this place, on generic carpet, the wear patterns are quickly felt. It seems that Aqua 2 have a good design because it is very difficult to remove the tissue surface. While glued and cut cleanly.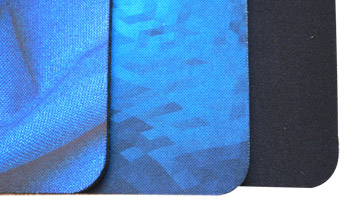 The shape and size of the carpet is very standard:
– Length: 27.6 cm
– Width: 22.3 cm 
The current carpet tend to expand to fit the new mouse like Logitech MX1000. Aqua 2 therefore end up in the carpet small and big carpet, the right balance? Everything depends on the users and the size of their office! 
Where Aqua approximate 2 generic mouse mats is their fabric surface, which does not allow to obtain good thrills and chills or extraordinary precision. The fabric is here different from X-Ray belt Aqua 3 Eyepad and other high-end carpet fabric. Only the user experience remains interesting.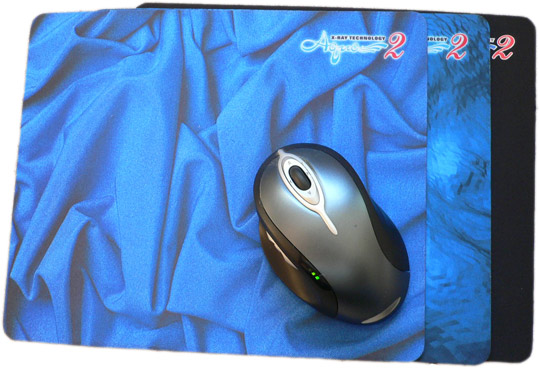 Offered at a price of 14 €, the range of 2 Aqua carpet will not meet the designers or players who need, in addition to ease of use, good performance in terms of accuracy and gliding. Aqua 2 is much closer to the generic carpet and the price is too high, too bad. 
—-
For the classification of the carpet among competitors in its class and whether he belongs to the podium by features, please go to the conclusion of the survey.
————————————-Page 23————————————————————
X-Ray Thunder 8 gaming mouse pad
  X-Raypad Thunder8 
Founded in 2003, the company X-Raypad Technology specializes in creating accessories for gamers. The company presents the Thunder 8, a mouse pad with the following dimensions: 
– Thickness: 0.42 cm
– Length: 29 cm
– Width: 23 cm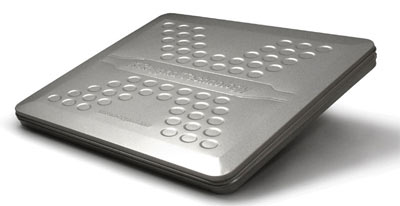 Comes in an aluminum casing look great, the Thunder 8 is carefully packed. In the box, there are double carpet face, and an accessory bracket for attaching the wire mouse. Three different versions of the Thunder 8 are available, black frame, orange or green. As previously said, this rug is made of a plastic holder to receive double carpet face. Under the support 10 there is non-slip pads for optimum stability of the carpet. The shape of the support is rectangular with rounded corners. The rug has two sides adapted to optical or roller ball mouse. One face is rather grainy to the touch, it is ideal for ball mouse who need a rougher surface not lack precision when moving fast. The second face is extremely smooth and appropriate optical mouse. In the upper right corner of the carpet include the brand logo and the name of the carpet.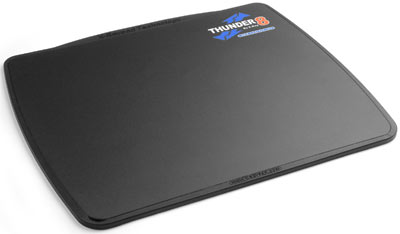 XrayPad has thought of everything! In the left corner of the media there is a small notch to lift the carpet is to change direction without any difficulty 🙂 A rather blatant remark appears … A carpet packaging neat, double-sided, consisting of a system Support mat and a support for the wire … Yes! A simple observation: the Thunder 8 strongly resembles the Func Surface 1030! 
smooth surface
granular surface
After many hours of testing (Unreal Tournament 2k4 …), carpet proves true ergonomic and comfortable to use. With both types of surfaces, ball or optical mice glide with ease and accuracy is excellent. The granular surface, usually reserved for ball mouse is also very interesting for use with an optical mouse. The surface is very pleasant to the touch, the comfort provided by it is not negligible.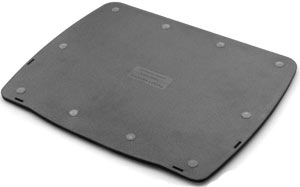 Anti-slip feet
Wire guide 
Offered at a price of € 28, this mat will meet the expectations of the most demanding players. Thunder 8 or Func Surface? Difficult to decide! Prices, designs and features are similar for both carpet, they do not answer this question. However, the overall quality and exemplary finish the Thunder 8 would tip the balance to the company XRay Pad. The Thunder 8 is a high quality product (Finishing, design and performance), only the price could push some … For the moment this product is only available via the online shop site sports team electronic aAa. (http://www.team-aaa.com)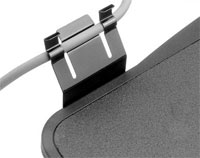 —-
For the classification of the carpet among competitors in its class and whether he belongs to the podium by features, please go to the conclusion of the survey.
—————————————Page 35——————————————————————-
X-Ray Pad Thunder 9 gaming mousepads
The X-Ray Pad manufacturer proposes to test the Thunder 9 BK1 and BK2 are simply changing the excellent Thunder 8 which has long been the big winner in our survey.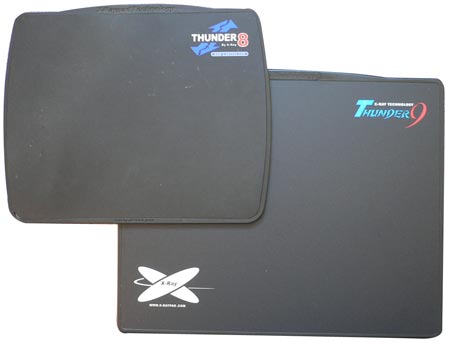 More than just a trend, the Thunder 9 is a new carpet in its own right. Unlike the Thunder 8, this new range does not offer dual surface. So we have two versions of the belt 9 Thunder BK1 and BL1 which have a smooth surface (BK Black Version and Blue Version BL) and BK2 BL2 and a granular surface. (BK Black Version and Blue Version BL). 
The Thunder 9 are much more imposing than the Th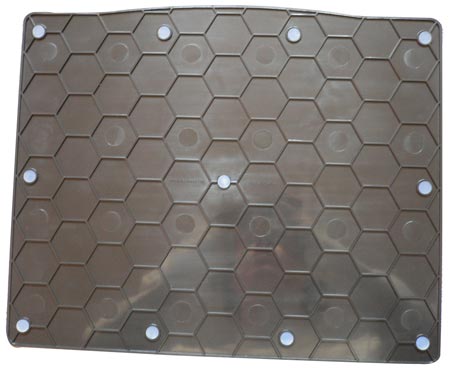 under and 8 show the following dimensions:
– Length: 35 cm
– Width: 28 cm
– Thickness: 4 mm 
The increase in size allows the Thunder 9 to compete with other manufacturers who constantly expanding the size of the carpet. It must be said that the current mouse are truly impressive and a carpet of small size does not suit them.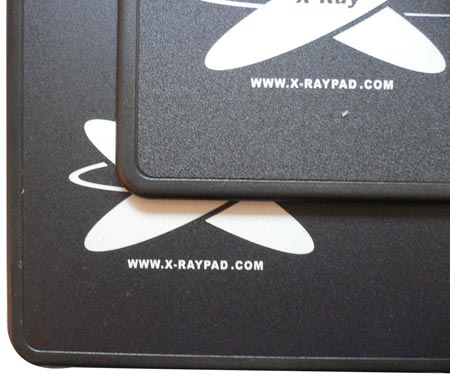 The shape of the rug remains unchanged, rectangular with rounded edges. The finish of the carpet is exemplary and, unlike other carpets, silk-screened logos and information are not cleared, or very little over time. This allows the X-Ray mat receive a long service life. 
The Thunder 9 come with a soft pouch excellent quality fabric and a range of 10 Teflon pads to increase the feeling of gliding on the surface of the carpet.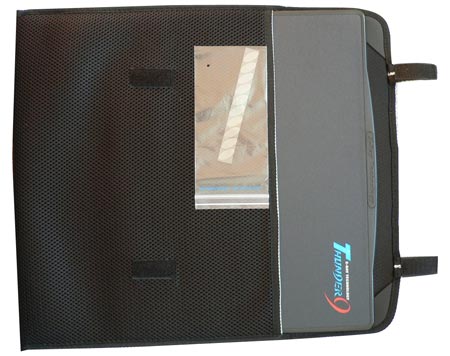 Thunder surfaces 9 are the same as those of Thunder 8 are similar performance. For those unfamiliar with the surfaces of the Thunder 8, a small summary is a must! 
Both surfaces allow the use of all types of mice and allow, especially when the mouse is equipped with Teflon feet, to get a feel of impressive slides. The accuracy and comfort provided by this type of carpet is really not negligible.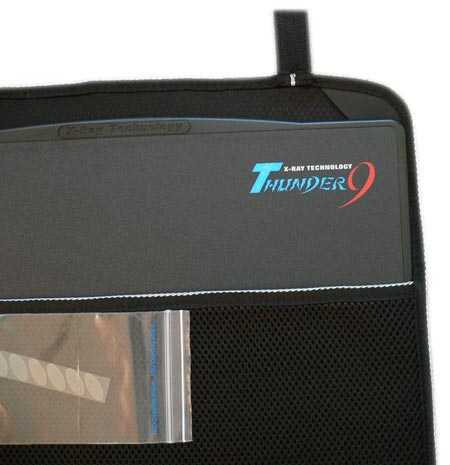 On the other hand, the Thunder 9 remain very sober carpet but they still come with a nice design (rounded shapes, colorful logos, …) which should satisfy many people. Besides their excellent surfaces, we regret that the Thunder 9 is available in two versions, why not repeat the double surface like 8 for the Thunder? … 
This excellent rug is available at a price of € 33, which is certainly not cheap, but making a real comfort for all those who regularly use a computer. From player to designer, via the Internet! 
—-
For the classification of the carpet among competitors in its class and whether he belongs to the podium by features, please go to the conclusion of the survey.
——————————-PAGE 49————————————————————————–
Conclusion tapis flexible 

 Foam – fabricAfter testing 11 mouse pad foam with a fabric surface, we can first of all make two conclusions.
–There are in this category, two ranges. The rather low mats range from 2 € to 14 € carpets that are known as "generic". They get poor performance, design is often criticized and their finishing but their price and comfort of interest to some users. In this category we note nevertheless Aqua 2 X-Ray manufacturer with a well above our generic carpet finish.
– The upper range is characterized by almost identical rugs: Same design, same performance, same comfort … Only the size, prices and of course the manufacturers are different. In terms of performance, these rugs slide more easily and more accurately meet the flexible foam carpet down range. We thus find the excellent Steelpad QcK (10 €) or the Corepad Eyepad, the Razer Mantis Control or the Q-Pad CT. The Everglide Titan, the same size as the carpet pad and Fatal1ty Destrukt PADSE out for its amazing packaging and Aqua 3M Xray its intermediate size. So this range offers attractive carpets, especially in terms of ease of use, for fair prices, ranging from 10 to 25 €.

 Plastic
The range of flexible plastic mouse pad is characterized by very fine products (from 0.mm 3mm) that have a single layer of flexible plastic. Some of these rugs have a really questionable design (Xtrac Carpet) and others try somehow to get by at this level (The Everglide Gaming Mat etXtreme). Manufacturers not knowing what we invent even advertise with these ultra fine carpets and beautiful design, increased accuracy … and the groundhog … Nothing too spectacular priori! In this army of carpet without great performances, three products across the sea: both carpet manufacturer Nova (Killer and Winner) and the latest manufacturer Func Industries (F-Series R.30). The finish of these products is exemplary and their performance is excellent. Note that the carpet Nova Killer is the most gifted of its class with many qualities ultra slippery surface and an original design. The prices of these rugs are often high for such products. Only carpets Func (28 €), Killer (28 €) and Winner (15 €) are interesting in this category with the right prices.

 Double face plastic
Dans cette catégorie, on retrouve des poids lourds sur le marché du tapis de souris : le Thunder 8, le fUnc surface 1030 / Archetype et le tapis Everglide Prosurface. Actuellement ces tapis ont un peu vieilli (Sauf le fUnc Archetype qui est réceent mais reste une copie du 1030 classique) mais restent des valeurs sures en terme de performance. Leurs doubles surfaces leur permettent d'être utilisés par la totalité des souris, dans les meilleures conditions possibles, et par un plus grand nombre d'utilisateurs. Ils bénéficient également d'un design et souvent d'un packaging recherché.
Actuellement, le prix de ces tapis a fortement baissé car de nouveaux tapis sont arrivés sur le marché. Ces derniers ne sont pas plus performants mais intègrent par exemple des patins en téflon et sont surtout beaucoup plus grands.


 Méttalisé
Peu de tapis entrent dans cette catégorie, ils sont cependant à part grâce à leur surface métallique qui se rapproche des surfaces en verre. Dans cette catégorie, il y a du très bon, du bon et du trés mauvais. On retrouve ainsi l'excellent Ulti-Mat avec sa surface en aluminium et téflon. Le bon Métal Art d'Allsop, malheureusement il a une durée de vie limitée et le trés mauvais tapis Xaser II de Thermaltake, complètement "has been". Un design critiquable et surtout une taille minuscule inadaptée aux souris actuelles.
 Simple face plastique
On retrouve ici la majorité des tapis récents destinés aux joueurs, graphistes et utilisateurs exigeants. La majorité de ces tapis obtiennent d'excellentes performances en terme de glisse et de précision. Nombre d'entre eux sont livrés avec des patins en téflon à installer sous la souris. Dans cette catégorie, on retrouve ainsi les excellents Q-Pad RT-X, Thunder 9 de X-Ray et le Steel Pad S&S. On retrouve également un tapis un peu vieux désormais, mais toujours aussi performant et design, le X-board Prototype V2 de Kryptec. On retrouve pour terminer, lesEverglide Attack et Giganta désormais démodés qui s'usent malheureusement trop vite ainsi que les tapisCompad Speed Pad et Raptor Gaming, assez performants mais trop petits et trés classiques. Les prix de cette catégorie de tapis oscillent entre 20 et 35€, ce qui reste correct.
 Tapis en verre
Ils font partie du marché des tapis de luxe, les tapis en verre sont certes appréciés pour leurs bonnes performances mais surtout pour leur design qui reste incontestablement le plus réussi. Le pionnier en la matière,Icemat, nous propose avec la seconde version de son tapis, un excellent produit, adapté aux souris actuelles. L'Icemat premier du nom intéressera d'autres utilisateurs grâce à son prix qui a récemment baissé. On retrouve également les excellents tapis Corepad avec leur verre securit. De la même manière qu'Icemat, le Corepad magma suit la tendance en proposant des dimensions plus élevées. (Comme son prix …). Exactement de la même manière que l'Icemat V1, le Corepad classique voit son prix baisser, ce qui le rend accessible à un grand nombre d'utilisateurs. Le Revelcell est également un trés bon tapis qui reste cependant plus cher que ses concurrents.
Reste également un outsider, le Bungee Cristal Pro qui propose une surface en verre double face. Il se révèle néanmoins dépassé de par sa taille et son design.
 Les lumineux
Les tapis lumineux sont une catégorie un peu a part. Ces tapis sont rarement performants en terme de glisse et de précision mais bénéficient d'un design sympathique. L'un des tapis les plus performants reste l'Everglide Rayet sa surface granuleuse. Retenons également le dernier né du fabricant Flexiglow, le X-Raider, qui bénéficie d'une surface intéressante. Ces deux tapis disposent d'un design agréable grâce à leurs diodes électroluminescentes bleues alimentées par port USB.
Restent maintenant les tapis Flexiglow Fx Game pad et Pc Look Super Surfboard qui bénéficient d'une surface désormais trop petite pour les souris actuelles mais qui sont équipés de nombreuses leds colorées qui leur conférent un look très "jacky". A noter également l'ajout d'un hub 4 ports pour le tapis Pc look super surfboard qui lui permet d'avoir une plus value intéressante.
Des tapis sympas donc, qui attireront un certain public grâce à leur design décalé malgré leurs performances moyennes.
 Podium par caractéristiques (49 tapis confondus)
 Tapis "+"

Pc Look Super Surfboard (Ports USB)

Thunder 9 et SteelPad S&S (Pochette tissu)

Q-Pad RT-X (Packaging)

 Tapis "durée de vie importante"

Tapis en verre

Ulti-Mat

Nova Killer et Winner
Je tenais à remercier l'ensemble des constructeurs et distributeurs qui ont participé à ce comparatif. Blaise (PC-Look), Toni et Markus (Indi-Web), Jakob (SoftTrading), Samy (aAa Solutions), distributeur Bacata et Jean Claude (Nova)

Pour terminer, je tenais à remercier Damien alias "DammStein", et Annette qui ont corrigé mes pitoyables fautes d'orthographe…