Product Description
Aqua2 A2C is a black fabric gaming mouse, pure color with a small X-ray logo on right corner.
Features:
Unique fabric surface improves mouse control

Fine-woven fabric surface enhances optical mouse accuracy

Messaline with suitable thickness protects your wrist

Slip-free rubber base grips your table firmly

Washable, anti-static, durable, stylish design
Dimensions:
280*230*3 (Unit:mm) 11.0*9.0*0.12 (Unit:inches)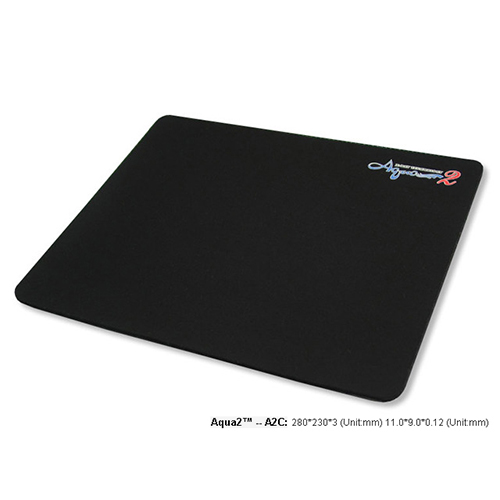 Review 1:
While it is just a mousepad, there is something to be said for having a quality mousepad. Having a quality mousepad will greatly enhance your mouses' performance and make your life a lot easier in the end. The Aqua2 is an excellent low priced replacement for those looking for a better cloth mousepad.
DragonSteelMods gives the Aqua2 a 5 out of 5 score.
Review 2: 
X-Raypad Aqua2 (A2A) Professional Fabric Mousepad Review @ DSM
Review 3:  Gotfrag mousepads review
But this is the year 2006 and today there are dozens mousepads specially designed for gamers. Even though choosing a special mouse pad is a very personal thing. Everyone uses a different setup, but still reading someone else's opinion is useful. Therefore over at hardware.Gotfrag they decided to test 10 different gaming mousepads and wrote a nice review about it.
#    The pads used are:
1    Surface 1030 Archetype
2    Icemat.2nd Edition
3    Steelpad S and S
4    Exactmat
5    Thunder8
6    Aqua3
7    Mouse Control
8    F-series F30.R
9    Mantis – Speed
10    Aqua2
Remember, all mousepads made today are quality products, the problem is finding the right one that meets your needs as a gamer. Here's a nice quote from the review:
Today we look at mousepads; an often overlooked part of a gamer's setup. Go ahead, run your brand new Razer Diamondback or Logitech G5 over that rough wooden desk or dirty old card table. Mousepads have come a long way from the floppy cloth-covered pads that came with your parent's old Hewlett Packard, and believe it or not, they have a big impact on the gaming experience.