Product Description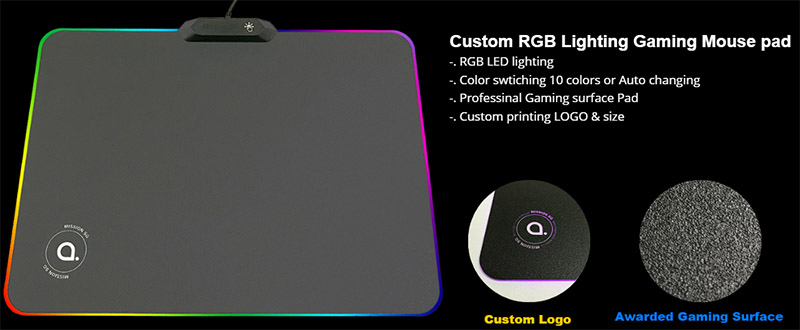 Customize RGB lighting gaming mouse pads with custom printed your logo, which has flash lighting out from your logo or pattern. The surface of mouse pad is using the awarded gaming surface(same as X-raypad thunder8's). So a professional gaming mouse pads with your own brand, which is a great gift for any gamer fans, friends, staff or for sale.
Now we have two kinds of RGB gaming mouse pads with different shape and sizes for custom printed logo on them. Please check below images to see the difference and instructions.
Custom lighting mouse pad feature:
1, RGB mode and 7 colors led lighting switching
2, An awarded professional gaming surface(Thunder8 surface)
3, Custom printed your logo onto mat
4, Mat size: 350mm(14 inches) x 250mm(10 inches)
5, Non-slip base
6, Product name: T800 or T801
If you want to check custom RGB lighting mouse pad quality before bulk order, you can get an exist sample for quality check. Which will keep our exist product logo and printing. Your custom mouse pad bulk will have own your logo size, position and design, and the mouse pad's function and structure will be same as the sample we present.
Custom RGB lighting gaming mouse pads with your brand and to show your high value product to your users, staff as high end gift product.
Do you need to custom RGB soft gaming mouse pads?