X-Ray Technology Thunder8, Thunder9 and Aqua3 Mousepads Reviews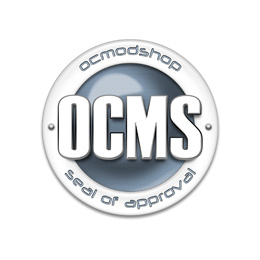 Gaming has been getting more popular over the past few years and should continue to do so into the future. With games looking better and needing more computing power to run high end hardware is normally needed. To accompany all of this expensive hardware peripheral companies have been putting a lot of time and effort into R&D to design better keyboards, mice, and other input devices.
With these precision mice that use advanced optical engines comes the need for better mousepads. X-Ray Technology was founded in 2003 and specializes in developing and manufacturing mouse pads and accessories for the professional computer user. They currently offer three mousepads and mouseskates, all of which will be looked at in this review.
Thunder8
The Thunder8 comes in a nice tin case and inside that case you will find the mousepad protected by foam. Also inside of the case is a user's reference which explains all of the features and options the mousepad has. There is also a mouse cord clip underneath the mousepad which will be looked at later in the review.
The Thunder8 looks like it is the perfect size measuring 11.44″ x 9.3″ x 1/6″ (290.6mm x 236.2mm x 4.2mm). This mousepad features a double-sided surface, one is smooth and the other is rough. In the bottom left of the mousepad there is a easy lift corner which allows you to quickly switch between the two. The underside of the mousepad has ten silicone feet which are used to keep the mousepad in place.
The Thunder8 has two sides that you can use, one which is smoother than the other. To switch between the two you basically pull the middle out and flip it over. Both sides are very smooth but one side is a little rougher which is better for traditional mice and of course you can use either side. There is also a mouse cord clip that you can put in a few places on the mousepad to hold your cord in place. You simply snap it into the slot on the back of the mousepad that you want to use and put the cord in it.
Thunder9
Since I got an engineering sample of this mousepad I don't have pictures of the retail packaging but I'm sure it will be nice. This mousepad is larger than the Thunder8 measuring 350mm x 280mm x 4mm. The top of the Thunder9 looks pretty similar to that of the Thunder8 with a few minor changes.
The biggest changes that stuck out right away was the fact that it was much bigger and only had one type of surface which was smooth. The edges are now curved so if you leave your hand on any edge it will be comfortable. The bottom of the mousepad has eleven silicone feet which should keep it in place nicely.
Aqua3
If you don't need a "gamers" mousepads X-Ray Technology has a more traditional one called the Aqua3. This mousepad has a fine-woven fabric surface and is washable so you can keep it looking nice. The aqua3 comes in four different sizes which are outlined below:
15.7″ x 11″ x 0.06″ (400mm x280mm x1.5mm)
15.7″ x 11″ x 0.12″ (400mm x280mm x 3mm)
17.7″ x 13.8″ x 0.06″ (450mm x350mm x 1.5mm)
17.7″ x 13.8″ x 0.12″ (450mm x350mm x 3mm).
Zero Friction Mouseskates
I also got some Zero Friction Mouseskates to use on my Logitech MX510. The samples provided are model number TP5A and TP5B. The TP5A skates are for use on Microsoft & Logitech MX mice while the TP5B are designed for Logitech mice. These skates will work with other mice as well you will just need to look at the kind of feet your mice have and choose the oval or circular ones.
Installation of the mouseskates is very simple and takes only a few seconds. It is best to clean the feet of your mouse before you stick the skates on. I used regular rubbing alcohol to make sure everything was removed. Once the alcohol was dry I simply placed a skate each of the feet and applied some pressure to make sure they were properly attached. The results of how these mouse skates work can be seen on the next page.
Since testing with a product like this is very subjective some of you might disagree with what I am saying. So just keep it in the back of your mind that some of what I am saying is just my personal preference.
Thunder8
Since I am using an optical mouse I found the rough side of the Thunder8 to be too rough and switched it to the smooth side. The smooth side was much nicer and my mouse felt much better than it did on the rough side. Compared to a generic mousepad the difference was like night and day.
I installed the cord clip and put my mouse cord in it and used it for a while but after a few minutes I got annoyed with it. When I would move my mouse close to the clip and took my hand off it the resistance from the cord being bent would move my mouse. I also noticed resistance while using the mouse if I would move it too close to the clip.
I decided to remove the clip and not to use it. You may have different feelings about the clip but I did not like using it. The one thing I do dislike about the Thunder8 is the fact that the piece in the middle that can be switched did not stay fully in place.
Near the easy lift corner the plastic would start to pull away from the base leaving an edge which I found a little irritating. This kept happening even after being sure to press hard around the entire perimeter of the mousepad. The Thunder8 stayed in place very well and did not slide around during gaming. Other than the middle piece moving a little there is really nothing to dislike about this mousepad.
Thunder9
Initially I felt that the Thunder9 was a little big for me even with a large desk. Since I use high sensitivity with my mouse I don't have to move it very far to get all the way across my screen. Because of this only a small amount of the actual space that the Thunder9 provides was used.
I got a smooth version of this mousepad but it felt a little rougher than the thunder8′s smooth side. The difference is almost unnoticeable and is completely subjective. The Thunder9 is also slightly thinner and much lighter than the Thunder8. The edges of this mousepad are curved more than the Thunder8 which make it more comfortable to use.
The cord clip has also been removed from this version which is a good thing in my opinion since I found it to be more of a hindrance with the Thunder8. The feet on this mousepad kept the Thunder9 in place during gaming and normal usage even during those exciting moments when gaming.
Aqua3
When I first looked at the Aqua3 I thought it looked more like a placemat than a mousepad. This is the biggest mousepad that I have ever seen and would not fit on my desk the way I have it setup.
I was able to fit it onto another desk that had more room but even then it was pretty intrusive. The surface is indeed much smoother than that of your run of the mill cheap mousepad and is thin which makes it very comfortable to use. Since this mousepad was so big and way too much space than I needed I tested it with a generic optical mouse with a lower sensitivity setting.
After using the mousepad for a while I do think that is a good product for someone who needs a large area due to low sensitivity or just moving the mouse long distances for whatever reason. I would not suggest this mousepad to everyone but I think there are users out there who would appreciate the large size, the fact that it is thin, and the smooth surface.
Zero Friction mouseskates
I tested all three mousepads without the mouseskates at first to get a good baseline. After adequately testing the mousepads I installed the mouseskates on my Logitech MX510. I didn't think there was going to be much of a difference since the MX510 is the best mouse on the market in my opinion and mine is only a few month old.
After getting the five skates installed on the bottom of my mouse movement was even smoother and I experienced less friction. I also installed four of the circular mouseskates onto a generic optical mouse which is now using the Aqua3. The difference with and without the mouseskates is tremendous and is much more noticeable than with the Logitech MX510. On all of the mousepads the movement felt much smoother and would be worth while investment for an avid gamer or someone who's mice feet are worn.
Since its a little hard to tell how big these mousepads really are individually in pictures I put them on top of each other to give you an idea. I also put a ruler at the bottom so you could see how big they really are. The comparison is setup in the following order from bottom to top: Aqua3, Thunder9, Thunder8.
I have always just used generic mousepads that have come my way since I didn't think that gaming mousepads would really do much. Well I couldn't have been more wrong about that, I don't think that I will ever use a regular mousepad again if I can help it.
All of these mousepads were really smooth and were much better than any generic mousepad I have ever used. Combined with a superior mouse like the Logitech MX510 or similar mouse your gaming should improve. The mouseskates also did a good job reducing friction and helped my mouse slide noticeably better.
I liked all of these mousepads but I found the Thunder8 to be the best.
The Thunder8 gets a 9.5/10, the Thunder9 gets a 9/10,
the Aqua3 gets a 9/10, and
the Zero Friction mouseskates get a 9/10.
Since everything got a 9 or higher I am also awarding everything with the OCmodshop Seal of Approval. I would like to thank X-Ray Technology for sending over everything for review, head on over and pick a mousepad up.
All of the mousepads are very smooth
All mousepads do not move much during use
All mousepads are large
Thunder8/9 can be cleaned with alcohol
Thunder8 has a rough and smooth surface
Thunder8 comes in a very nice tin case
Thunder9 does is thinner than 8
Thunder9 edges are rounded
Aqua3 surface very smooth
Aqua3 is very thin