Decorate your game tabletop with geometric playmat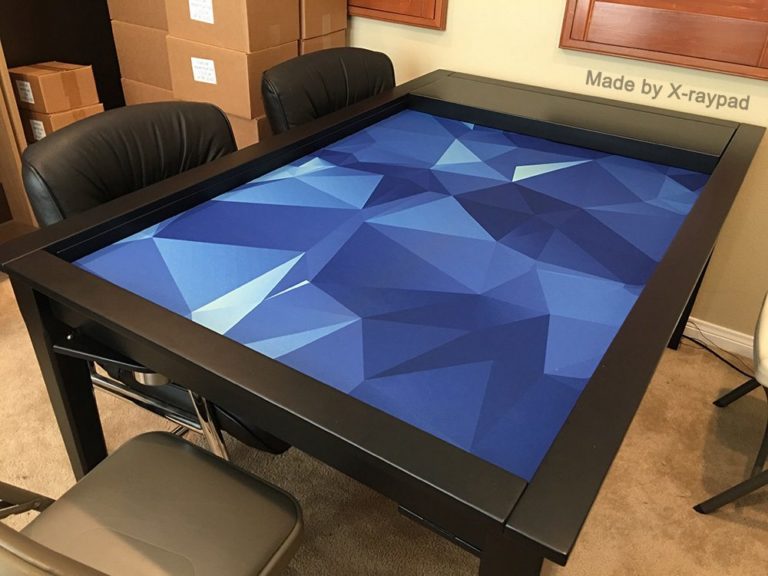 Do you want to decorate your game tabletop with geometric playmat? As you known, the geometric pattern can be used everywhere, include the board game tabletop. So where can I find geometric playmat?
Shown here is a pattern of many blue triangles, each blue triangle is different color, it's very beautiful and the blue triangles look like blue diamonds. Just look down at the game table and it has a custom 5 foot game playmat built in. Is it very beautiful?
Important Tips of custom playmat built in the game tabletop: 
1, Beautiful artwork and high quality printing
2, Accurate size of playmat best fit into the table top, don't leave some visible big gap between the mat and table sides(most of rubber playmat has 1% shrinkage, but ours is only 0.1% to 0.2% due to precision cutting)
Feature & Advantage of custom geometric playmats:
Custom printing design and size.
Different blue polygon combines a blue hue geometric image, just like diamonds reflect different colors.
High Definition Printing on the premium fabric that looks vibrant, it will not fade away or rub off.
The playmats built-in the game table needed precise size. Whether it is shorter or longer, it will be unsightly to the game table. Our square-corners playmat size is accurate to 1-2 mm. Perfect fit your game table.
You may have different size of table, such as 31 inches square table. So you will need a square custom playmat with your own artwork for playing cards. If you like geometric artwork, you can custom own polygonal playmat like below photo:
Order#12350, geometric pattern playmats size are 31"x31". It can be chosen edged stitched.
Which are 31″ x 31″ custom playmats with blue geometrical figures, edge stitched. You can put it on the table or pick it up outdoor to play game cards everywhere.
If you don't like the blue polygonal pattern, you can choose the black color.
What a high quality geometric playmat! Do you want to get one? Now you can also get a free playmat bag to store your geometric playmat!  Contact us!