How to create the artwork for the custom mouse pads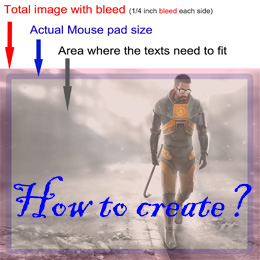 How to creat the artwork for the custom mouse pads?
Please following below simple steps:
1, Plan the artwork layout
Many times, people think the artwork's size is same as the mouse pad's.
This is not correct at all.The artwork size must be larger than the pads'size.
How to layout the artwork with bleeds?
When you draw a bleed, you have three edges to be aware of: the safe area, the trim size, and the artwork area with bleed.
2,Calculate the artwork size
-,Leave 1/4 inch for bleeds for each side

-,Leave 5mm for stitching area

-,Leave 15mm between words/logo and the trim line.
For example, if you want to custom mouse pad with extra large size 700mm x 300mm, your artwork size should be 712mm x 312mm at least.
Please make sure any words or logo follow these guidelines
1, Words fonts need to be 13px or larger

2, Convert all text to curves/outlines

3, Text or logo distance of at least 15mm from the edge.

4, Your image mode should to be CMYK
---
X-raypad offers artwork edition freely for custom mouse pads. It's easy to us to custom mouse pads design. If you just have an idea or picture, you want to custom mouse pads, just tell us or send it us. We will make the mouse pad design to you total freely.