Personalized Multi-Photos Mouse Pad on Unique fabric surface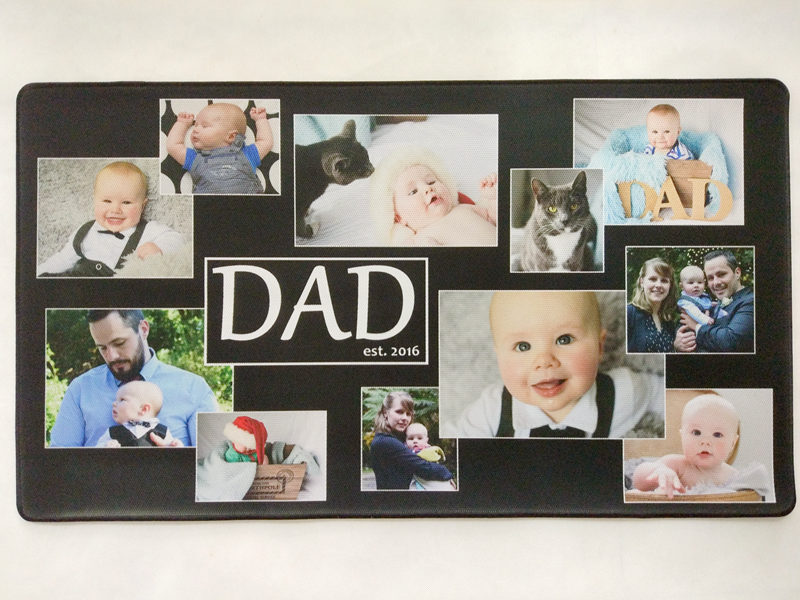 Nicole from Victoria,Australia, who wants to personalized printing photos of his son and family onto a giant size mouse pad. Finally, Nicole in order to commemorate his father as a first anniversary, especially the production of this photo artwork.
We received his order of personalized mouse pad on August 27th, 2017. The custom size: 800x450x3mm (31.49″ x 17.7″, 1/8″ thickness), it's giant size. The Printing artwork: 11 wonderful photos  of his son and family,  best match the artwork theme of "Dad est. 2016".
Why did he choose to print his photo on a rough fabric surface (mesh fabric)? It's unique fabric surface, gamer wants to have better control mouse moving speed, they will choose such rough surface mouse pad.  If it were me, I would choose to print photos on a smooth cloth.
Do you want to custom print your photos onto mouse pads? We offer more options for customizing photo mouse pads, such as mat surface, thickness, free style photos, edge treatment etc… Custom mouse pads no minimum for personal or custom mouse pads bulk for company, Game Mat quality and fast delivery world-wide.