Description
Custom mouse pads bulk with your own artwork, image or logo, waterproof coating, edge stitched and mat size 23.6 inches by 13 inches.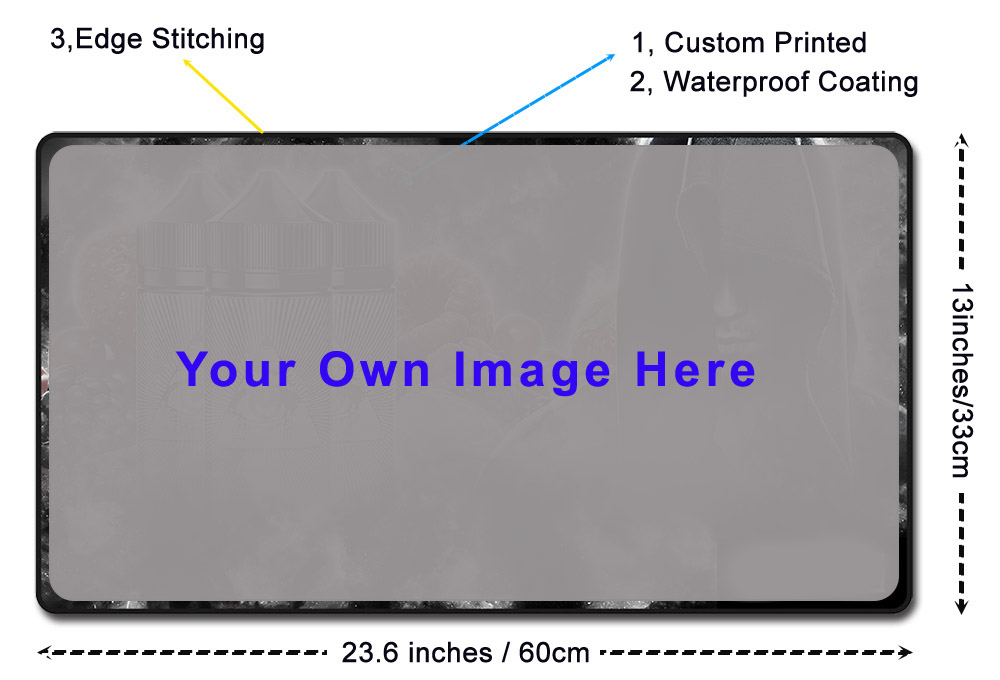 Why do you need a water-proof mouse pad? 
The cup was accidentally knocked over and the drink flowed onto the mouse pad. The fabric surface of the mouse pad absorbs liquid. If the surface of the mouse pad is cleaned with a tissue or towel, it cannot be completely cleaned. This is because the sugar and other substances in the beverage still remain on the surface of the mouse pad and cannot be removed. The sticky material on the mouse pad can seriously affect the use of the mouse. So the waterproof mouse pad will solve this problem.
Our Advantages:
1, Print own artwork onto mouse pad fabric surface.
2, Surface Option: We have smooth fabric or rough fabric for mouse pad top.
3, Thickness: you can select different thick of natural rubber for the mouse pad.
4, Edge treatment: We have 3 options for mouse pad edge treatment.
5, Quality discount with mix designs
6, Two weeks delivered in Most Country of the World.
7, Free Shipping for this item.
8, Gaming Mat Quality
Features:
1, Print your own design on it
2, Game mat quality and Frame stitched
3, Water-proof surface
4, ECO rubber and fabric
5, mat size: 13" x 23.6", 2mm thick
6, included shipping to one address
7, Lead-time: 2-3 weeks delivered.

All inclusive pricing on our mouse pads in bulk
Free shipping (Approximate 5-7 days on the way)
Free digital proof/sample proof (orders 250 or more)
Free set up
No tax

What's waterproof mouse pad?
Top surface of rubber mouse pad is a fabric, usually the water permeates the fabric fibers.
Add a transparent coating to the surface of the fabric, so that the liquid stays on top of the
coating, so that water does not come into contact with the fabric. This is the waterproof coating,
which is the waterproof mouse pad.
If you don't know your artwork can match the mat size, just send us your file. We will edit it to fit the mat size. You will get a preview file for approval before production.
Do you need other size custom mouse pads bulk?